Know your risk to reduce your risk of type 2 diabetes 
By being informed of your personal risk of type 2 diabetes, you can make informed, proactive health decisions and seek support when you need it.
Did you know…
Screening for type 2 diabetes is often based on BMI alone.
There are a lot of risk factors other that can put you at risk of developing type 2 diabetes.
Do you know which factors influence your risk of type 2 diabetes?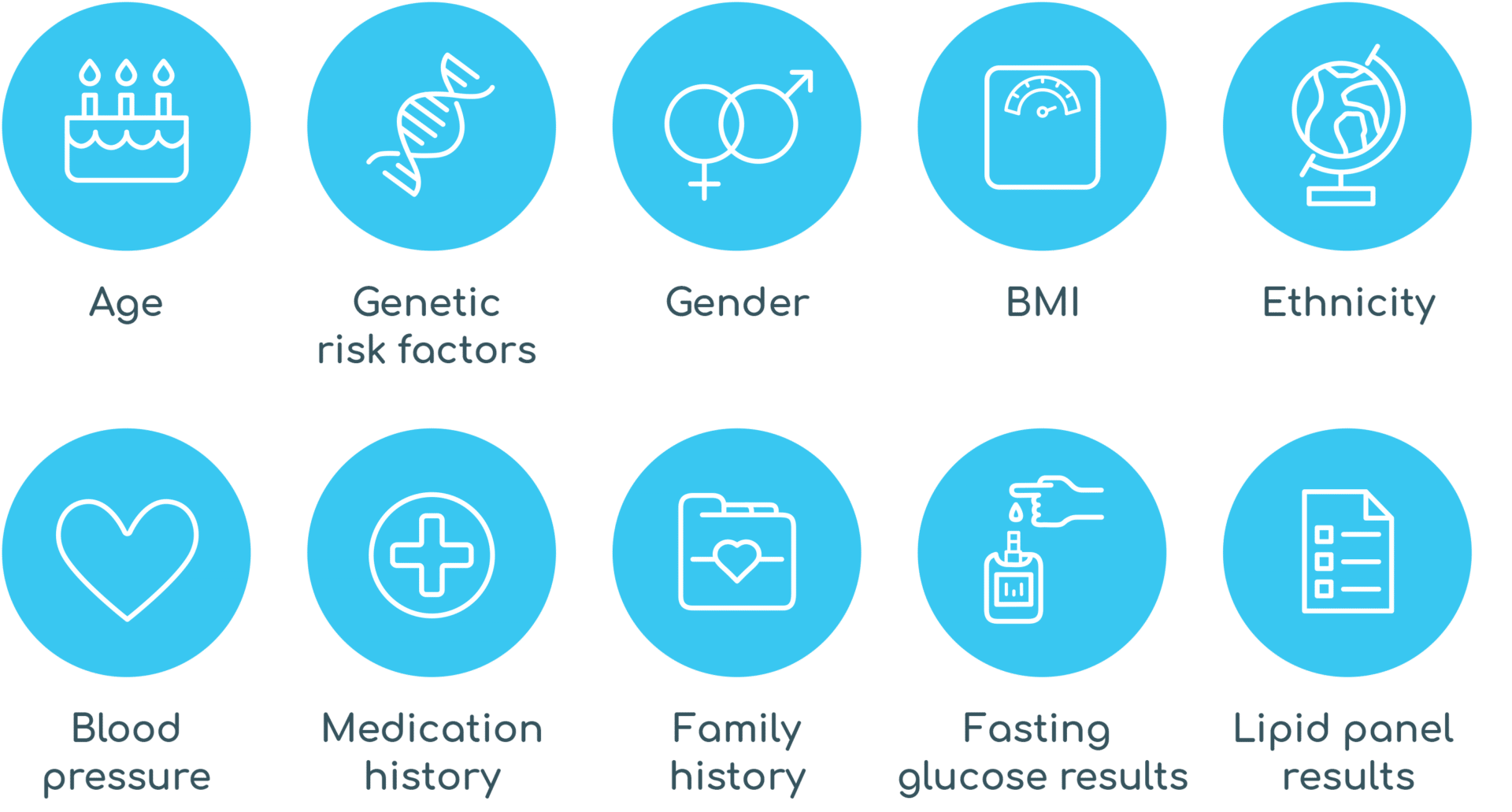 Is geneType for Type 2 Diabetes right for you?
GeneType for Type 2 Diabetes is appropriate for:
Men and Women
Ages 40 – 85 years
Fasting blood glucose level under 126mg/dL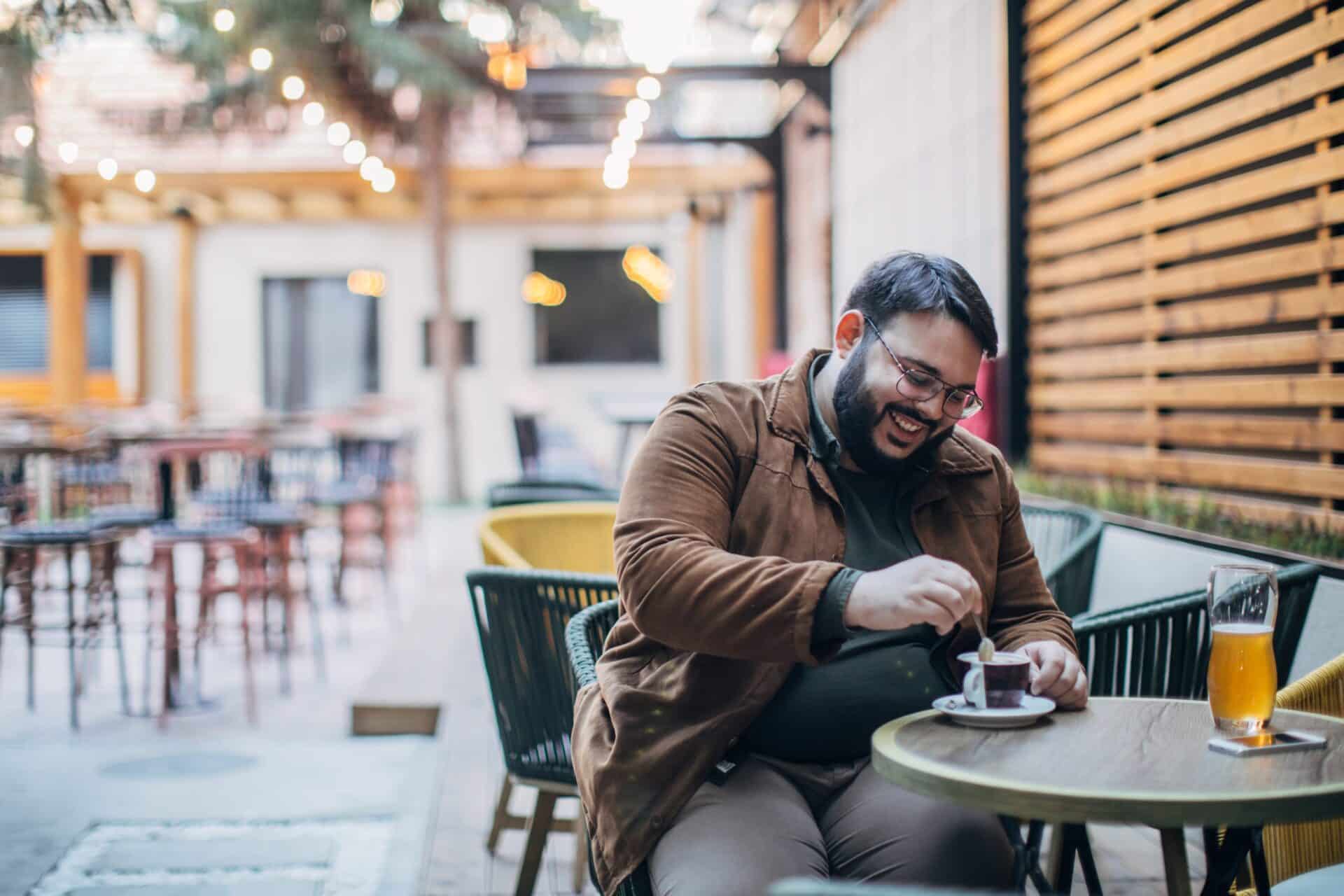 Simple, Actionable Results
GeneType reports help you and your health provider translate your personal clinical, family and genetic data into an actionable preventable health plan.
key features of a geneType report:
Your personal 8-year risk score; this is your chance of developing T2D over the next 8 years.
An 8% threshold based on American Diabetes Association guidance; if your risk score is higher than this 8% bar, then your provider can speak with you about your healthcare options to manage and reduce your risk.
The more you know about your risk, the more you can do to try and prevent type 2 diabetes.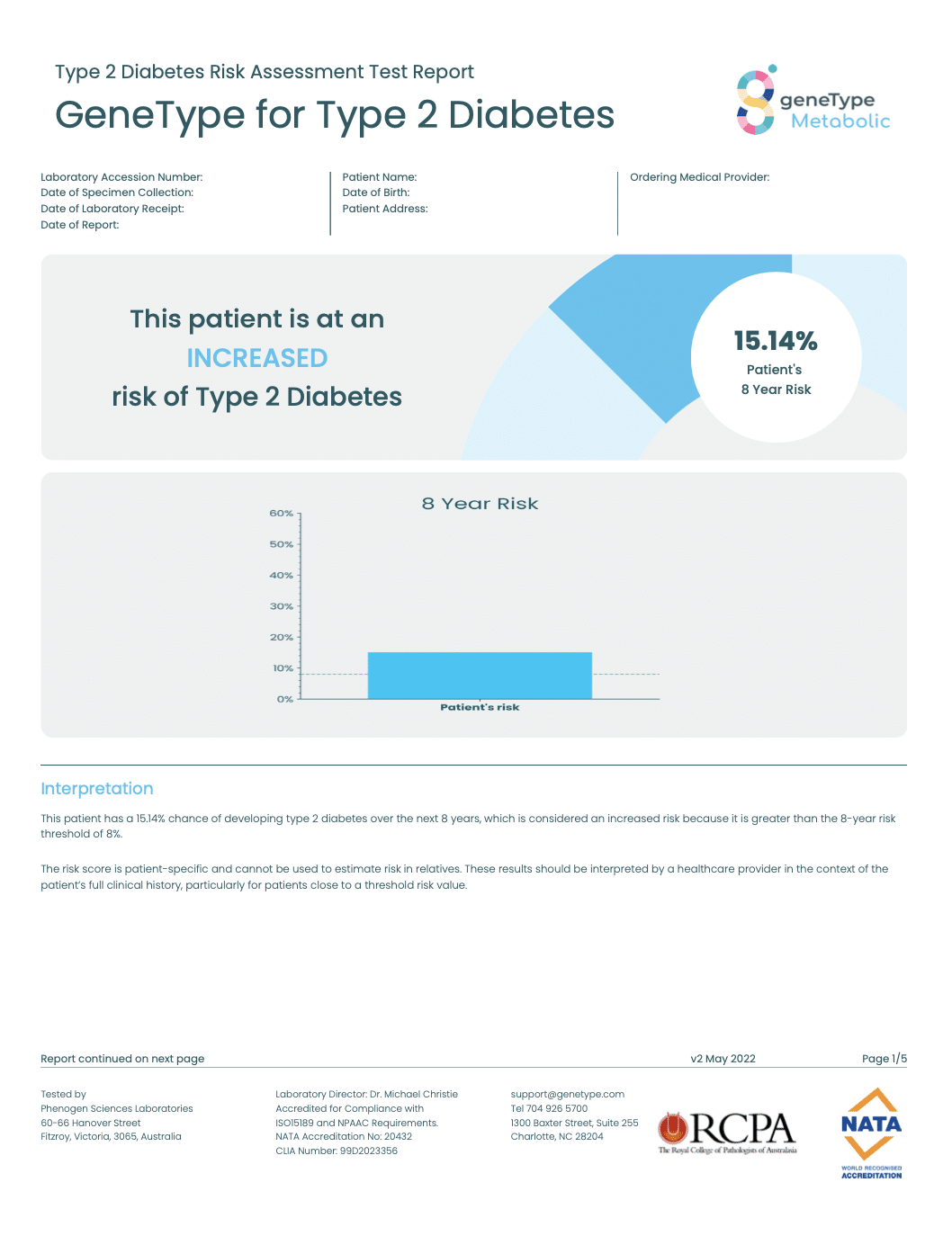 Uniquely powered
to assess your risk
Understand your baseline risk of developing type 2 diabetes.
Take risk-reducing steps that are personalized to your health.
Know your risk of type 2 diabetes so you can take action
Speak to your healthcare provider today about geneType.
To order online through our patient portal, follow these four simple steps to be connected with a third-party telehealth provider.
Register for your geneType test using our portal.
Depending on the test, you may require access to your medical records (ex. lipid panel or breast density results). 
Payment will be collected at time of registration.
Your clinical information will be reviewed by our 3rd party telehealth partner, DNA Visit.
If you qualify for testing, a kit will be shipped to your address on file.
If you do not qualify for testing, you will receive a refund.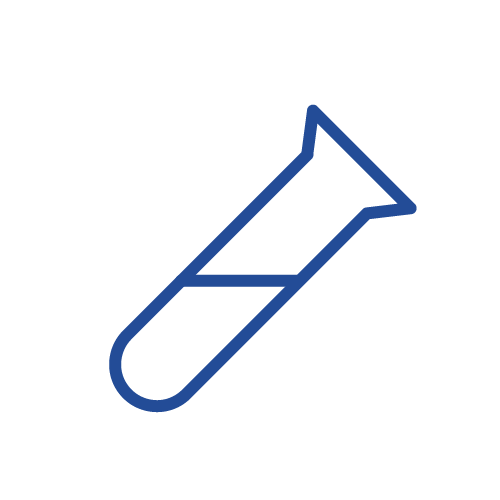 Complete saliva sample collection as instructed and return in pre-paid envelope.
Do not eat, drink, smoke, vape or chew gum within 30 minutes of collection. 
When your results are ready, you will have the chance to speak with your DNA Visit healthcare provider.
All at-risk patients will be required to speak with the provider prior to results-release.
Does this test include all the risk factors for type 2 diabetes?
Type 2 diabetes is a multifactorial disease and it is not possible to incorporate all potential risk factors into a risk prediction model.
Who is not eligible for this test?
This test is not applicable to adults who have fasting glucose levels above 126 mg/dL. In this case, the adult should undergo additional fasting blood glucose testing to confirm type 2 diabetes diagnosis. If an adult has pre-diabetes we can still risk assess them with a reading of 125 mg/dL or lower on our requisition. 
Will insurance cover this test?
No.
At this time geneType is a self-pay test. However, your patient may use FSA/HSA to pay for the test.
My doctor uses a traditional T2D risk assessment model, why should I choose geneType?
The benefit of geneType is in the common genetic markers that we examine and incorporate with other standard markers of risk, like cholesterol or fasting glucose levels. This gives you an advantage to visualize a component of your patient's risk that you can't see in traditional risk models. This leads to improved stratification, particularly in adults that may present with minimal clinical risk factors, but may have a high "baseline" risk based on these common genetic markers.
Importantly, lifestyle modifications are effective in reducing T2D risk across all genetic risk categories.
Interested in ordering more than one disease? Order geneType Multi-Test.
See individual disease pages for more information about each test.
The Multi-Risk suite of tests is for adults 40-85 years of age. At maximum, a woman would be eligible for 8 diseases in the panel; a man would be eligible for 7. Starting at age 30, a patient may qualify for geneType's cancer risk assessments only.
*Patient eligibility dependent on personal medical history, age and sex
It's not always easy to know what questions to ask your Doctor. Here are some breast cancer risk questions…
read more
References
Cowie CC, et al. Diabetes in America. 3rd ed. Bethesda (MD): National Institute of Diabetes and Digestive and
Kidney Diseases (US); 2018 Aug. CHAPTER 3: Prevalence and Incidence of Type 2 Diabetes and Prediabetes
Jonas DE et al.JAMA. 2021;326(8):744-760.
Ali MK et al. JAMA Netw Open. 2019 May 3;2(5):e193160.
Centers for Disease Control and Prevention(CDC). National Diabetes Prevention Program. Available at: https://www.cdc.gov/diabetes/images/library/socialmedia/NDPP_WorkingTogetherDiabetes_Print.pdf. 5. American Diabetes Association Professional Practice Committee. Diabetes Care. 2022;45(Suppl 1):S17–S38. accessed June 2022