Find out about your colorectal cancer risk.
Your future self will thank you.
Did you know that colorectal cancer is the third most commonly diagnosed cancer in Australia?¹
That's why geneType for Colorectal Cancer looks beyond family history – integrating genetic data with familial and clinical factors to more accurately estimate colorectal cancer risk.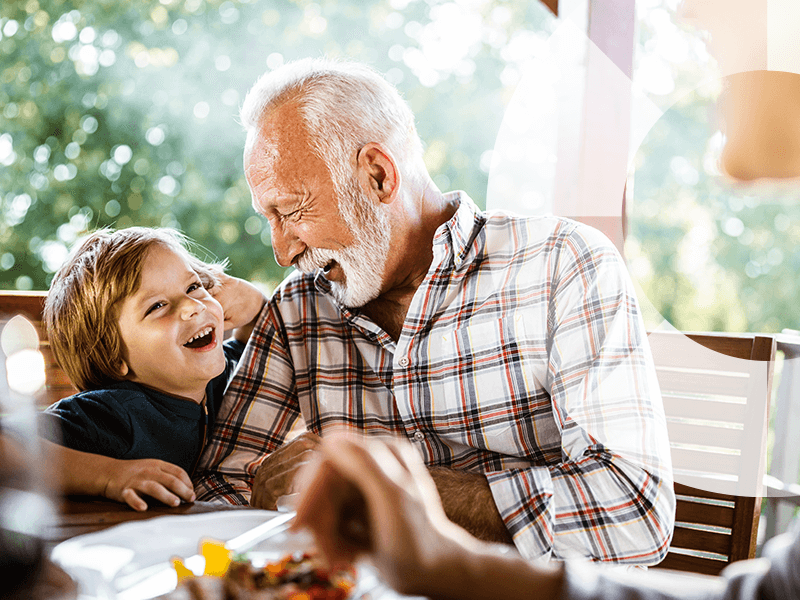 You might be surprised to learn that most cases of colorectal cancer occur in people with no significant family history of the disease.2
This is because many factors can increase your risk of developing colorectal cancer. Some of these are out of your control, while others you have the power to change.1,2
Risk factors you


can't

change²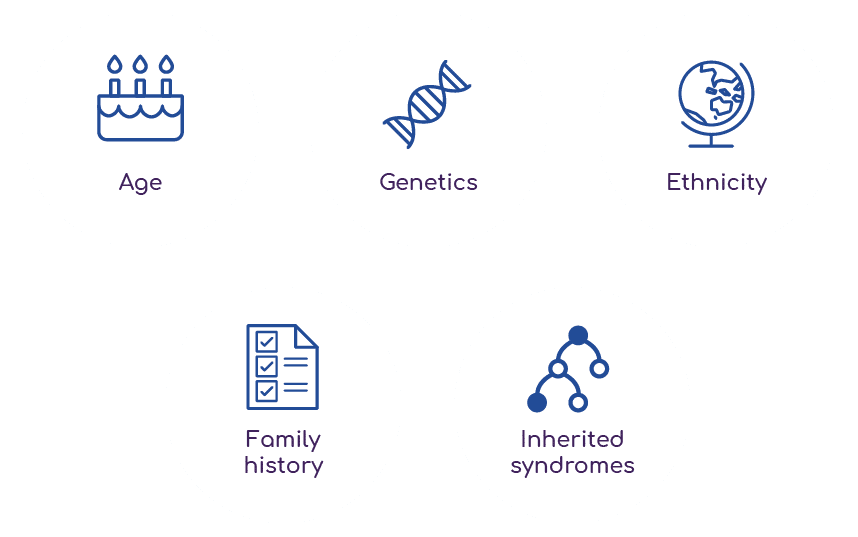 Risk factors you


can

change²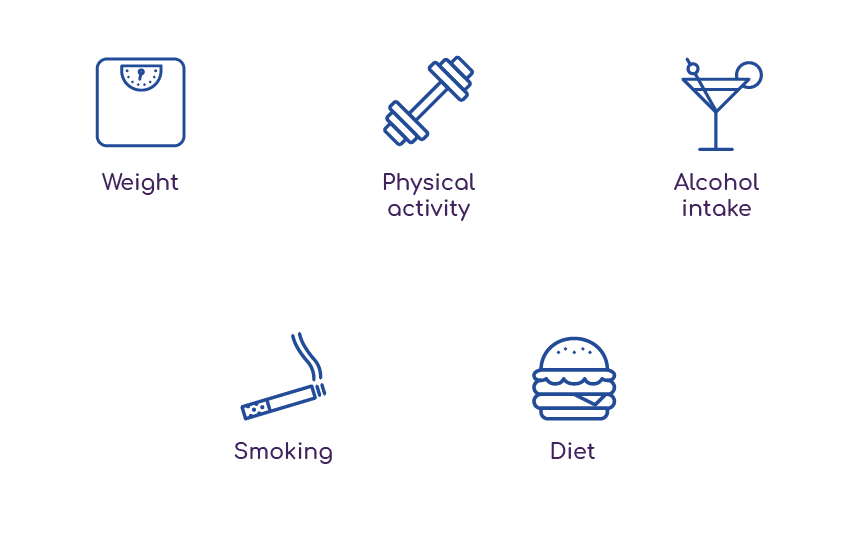 GeneType for Colorectal Cancer provides simple, actionable results.
GeneType reports help you and your medical practitioner translate your personal clinical, family and genetic data into an actionable preventable health plan.
Unlike other tests, your test results are provided in simple language that you can understand.
Key features of a geneType report
A snapshot: a quick guide that identifies your risk as average, moderately increased or high.
Your lifetime risk score: this score is may be used by your medical practitioner to make decisions about risk-reducing strategies.
Your 5-year risk score.
Your polygenic risk score: without geneType this is one genetic factor that is typically missed by other tests assessing your breast cancer risk.
Recommendations on referral, screening, lifestyle, medication, interventions and ongoing screening and wellness checks based on your risk level.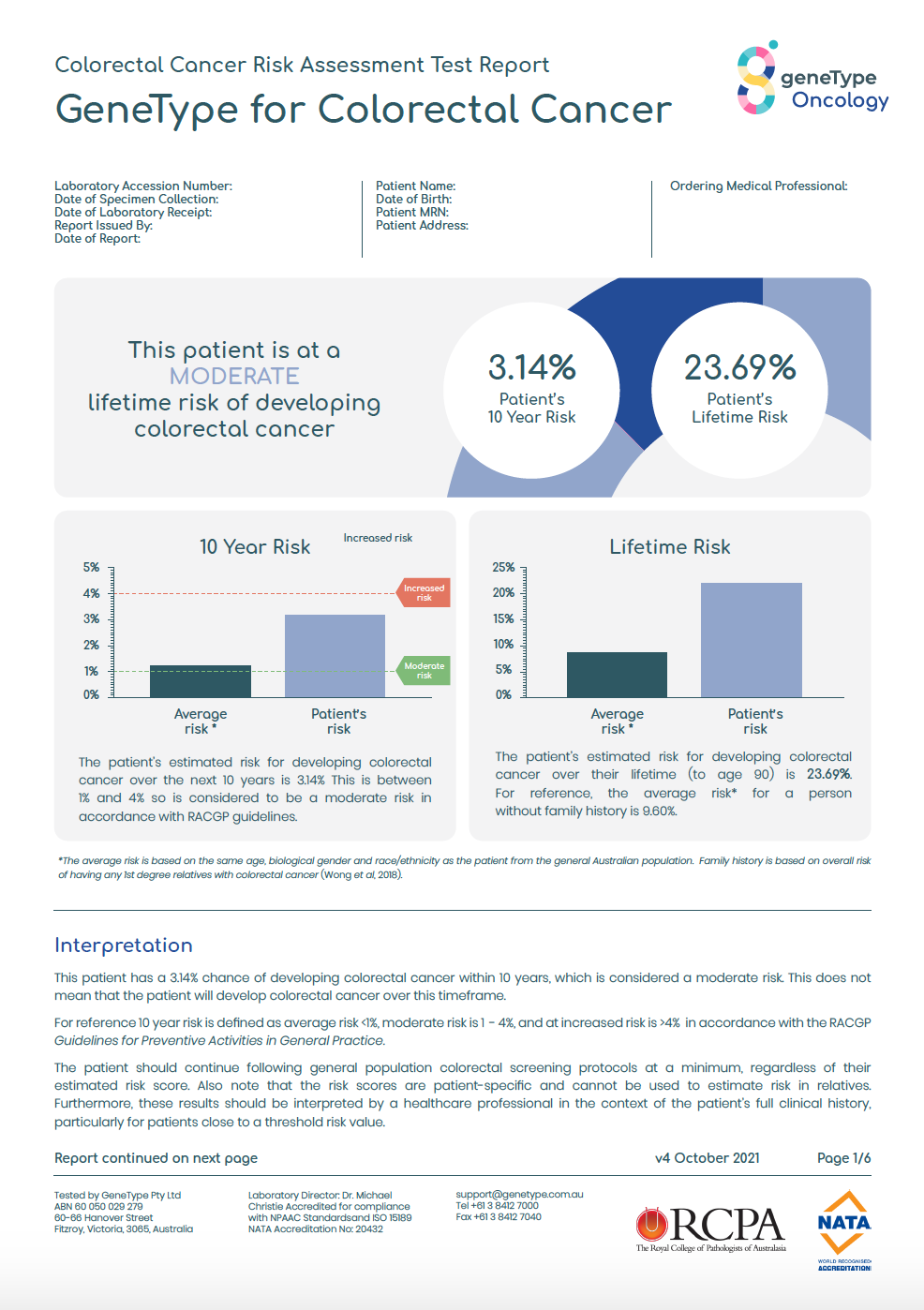 Personalised risk score. Personalised health plan.
GeneType for Colorectal Cancer can help you and your medical practitioner develop a risk reduction health plan just for you.
Depending on your risk, your medical practitioner may consider:
Managing the risk factors you can change
Additional screening that may include faecal occult blood testing and/or colonoscopies
Risk-reducing medications (if appropriate)
Consultation with a specialist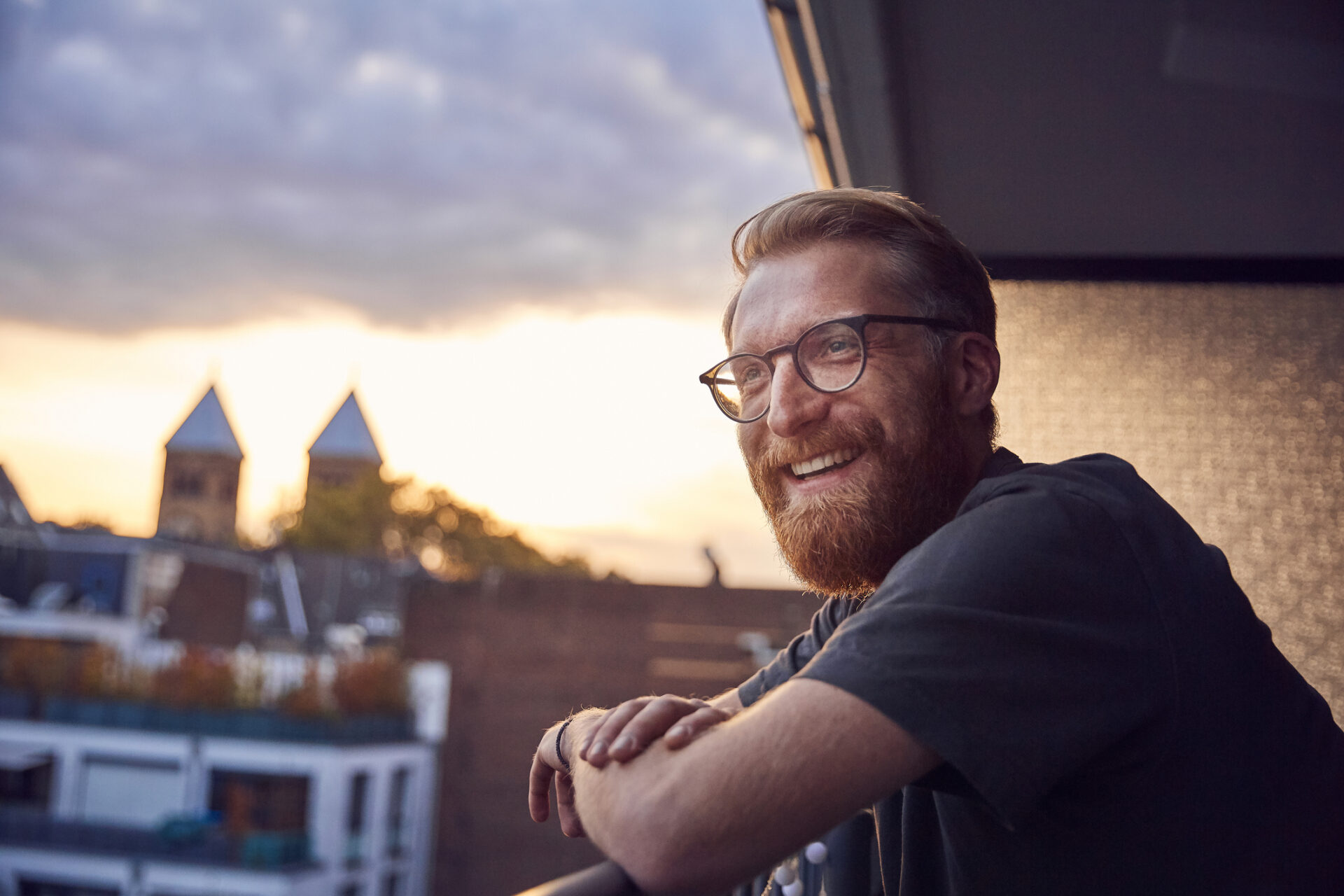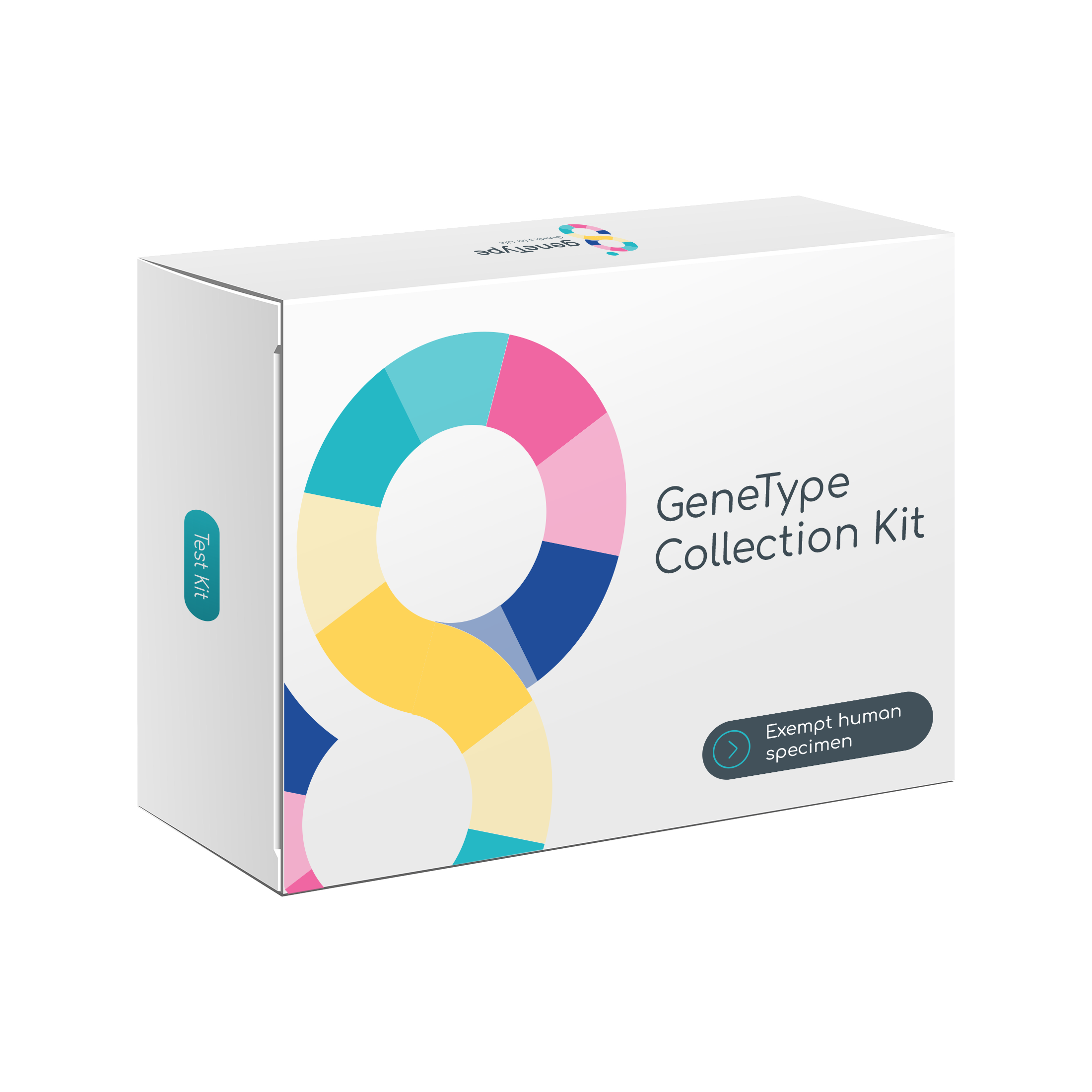 Uniquely powered to assess your risk.
GeneType for Colorectal Cancer is the only test that combines the following to give you a comprehensive and highly accurate risk prediction score4
Hereditary colorectal cancer testing
Integrated risk score that accounts for:

70+ genetic markers of colorectal cancer risk
Your age
Your family history of colorectal cancer (if any)
Your personal history
Inherited syndromes
If you order geneType through your medical practitioner, you will receive your results directly from them.
What will my GeneType for Colorectal Cancer results tell me?
Your results will tell you, based on genetics and other risk factors, your risk for developing sporadic colorectal cancer over two different time periods: the next ten years and in your lifetime. Your risk will be compared to the average risk for someone of your age, ethnicity, and sex. You and your healthcare provider can use this information to develop a personalized screening and risk reduction plan.
How does GeneType for Colorectal Cancer assess my risk?
GeneType for Colorectal Cancer combines several of your risk factors, such as age, family history, and your DNA markers, into one comprehensive risk assessment.
Is GeneType for Colorectal Cancer a blood test?
No. GeneType for Colorectal Cancer is a DNA test from a cheek swab. Your healthcare provider will rub the swab between your cheek and gums to collect the sample.
What are DNA markers?
"DNA markers" is a simple term we use to describe small differences in DNA between individuals. GeneType for Colorectal Cancer looks at DNA markers that have been scientifically proven to be associated with colorectal cancer.
What is a polygenic risk score?
A polygenic risk score (PRS) combines the effects of multiple DNA markers to rank your risk against that of the general population. While one or two DNA markers don't have a strong influence on risk, many markers together can have a large impact. Your polygenic risk score adds up the effects of over 40 DNA markers.
Will insurance cover this test?
This test is not generally covered by insurance. Your ordering healthcare provider will discuss the cost of the test with you. A credit card authorization form will be included in the test kit that list the payment options.
How will my data be used?
Safeguarding the privacy and security of personal health information is among our most important responsibilities. Be reassured that all genetic testing is performed in our accredited laboratory in Australia so is subject to strict Australian regulations. You can access our full privacy policy at genetype.com/privacy-policy
Know your risk of colorectal cancer so you can take action.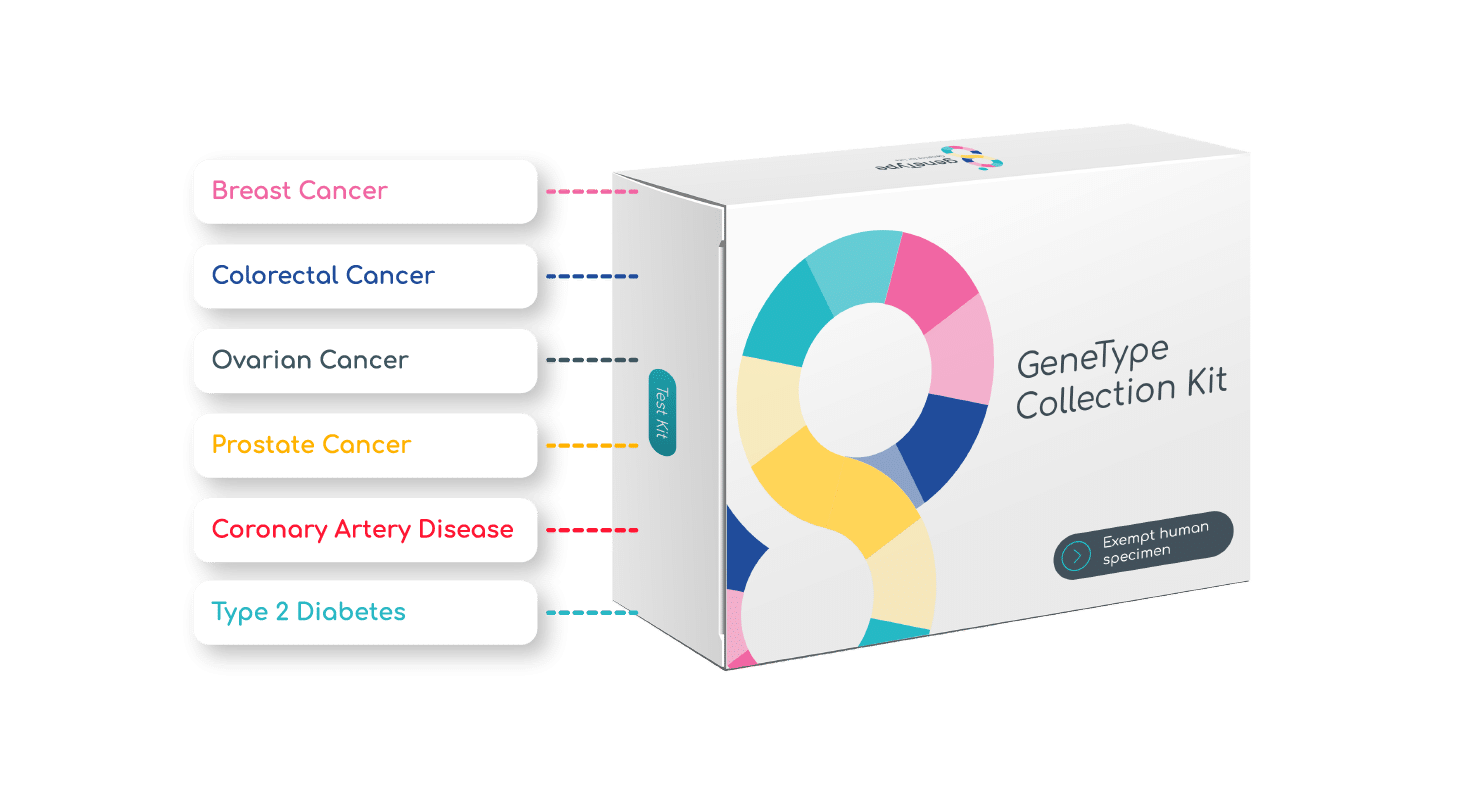 Available to Medical Practitioners
GeneType Multi Test
A combination of geneType tests for breast cancer, colorectal cancer, ovarian cancer, prostate cancer, coronary artery disease and type 2 diabetes in a single test.
Know your risk of a serious disease to tailor a personalised prevention plan with your medical practitioner.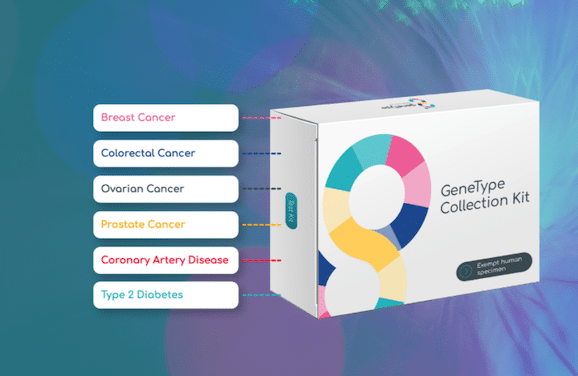 It's not always easy to know what questions to ask your Doctor. Here are some breast cancer risk questions…
read more
References
Cancer Australia. Bowel cancer. Available at: https://www.canceraustralia.gov.au/cancer-types/bowel-cancer/overview. Accessed November 2021.
Bowel Cancer Australia. Non-modifiable risk factors. Available at: https://www.bowelcanceraustralia.org/non-modifiable-risk-factors. Accessed November 2021.
Keep up-to-date with our latest advances
Sign up to our newsletter to stay informed about our latest advances and how these could support you.
Accredited For Compliance With NPAAC Standards And ISO 15189