Type 2 diabetes can be prevented in up to 58% of cases in patients with prediabetes
Motivate patients to make informed, proactive health decisions
GeneType for Type 2 Diabetes
Personalised risk assessment integrating clinical, familial and genetic risk factors
Who is suitable for geneType for Type 2 Diabetes
Men and women
Aged 40 years to 70 years
Caucasian descent
 GeneType testing is simple
Register as a provider; our team will provide clinical education and other resources as needed.
GeneType will send kits to your clinic to have on hand.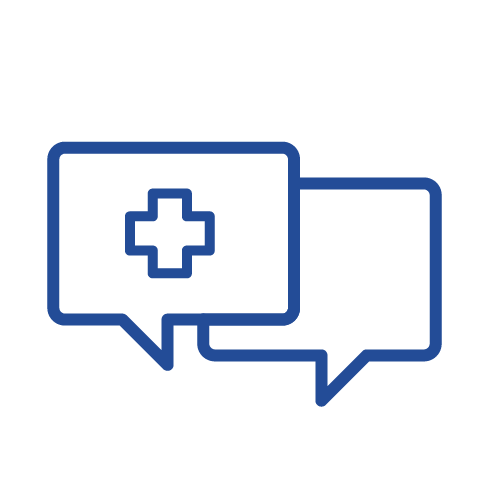 Discuss geneType with your patient.
Would geneType help her qualify for additional risk reduction strategies?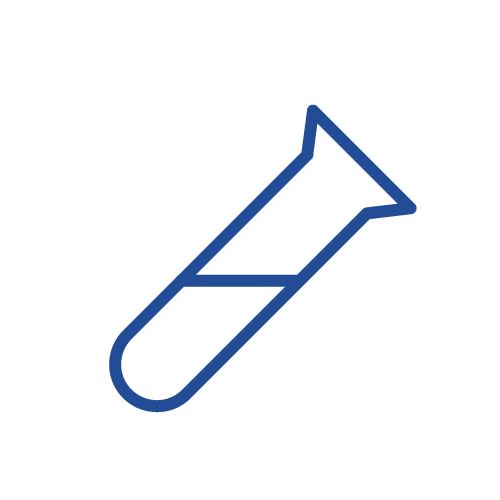 Complete the Test Requisition form, collect a sample from the patient in the saliva tube provided and return both to geneType.
You will have the option to use a paper requisition, or a secure, HIPAA-compliant portal to complete the ordering process.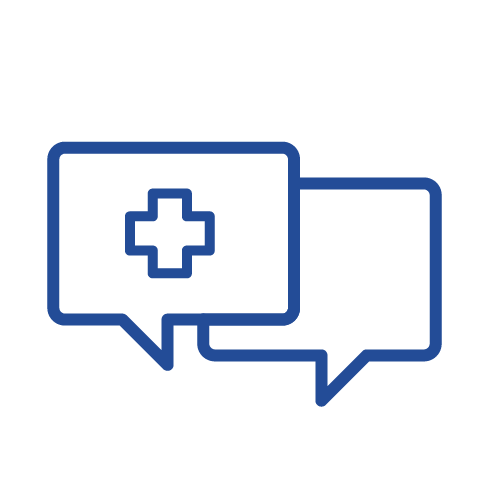 Leave the rest to us.
GeneType will notify you when your patient's results are ready.
You will have the option to request a consult with a genetic counsellor,  whether to review your patient's results and/or to follow-up with your patient, as needed.
One report with clinically actionable insights.
GeneType reports are structured to make the results easy to interpret and communicate to a patient.
The geneType for Type 2 Diabetes report includes:
snapshot of your patient's 8-year risk score
interpretation of what their risk score mean in the context of your local guidelines
polygenic risk score accounting for additional single nucleotide polymorphisms that may influence their type 2 diabetes risk
information about modifying type 2 diabetes risk factors
and the types of screening and interventions that may be relevant to risk category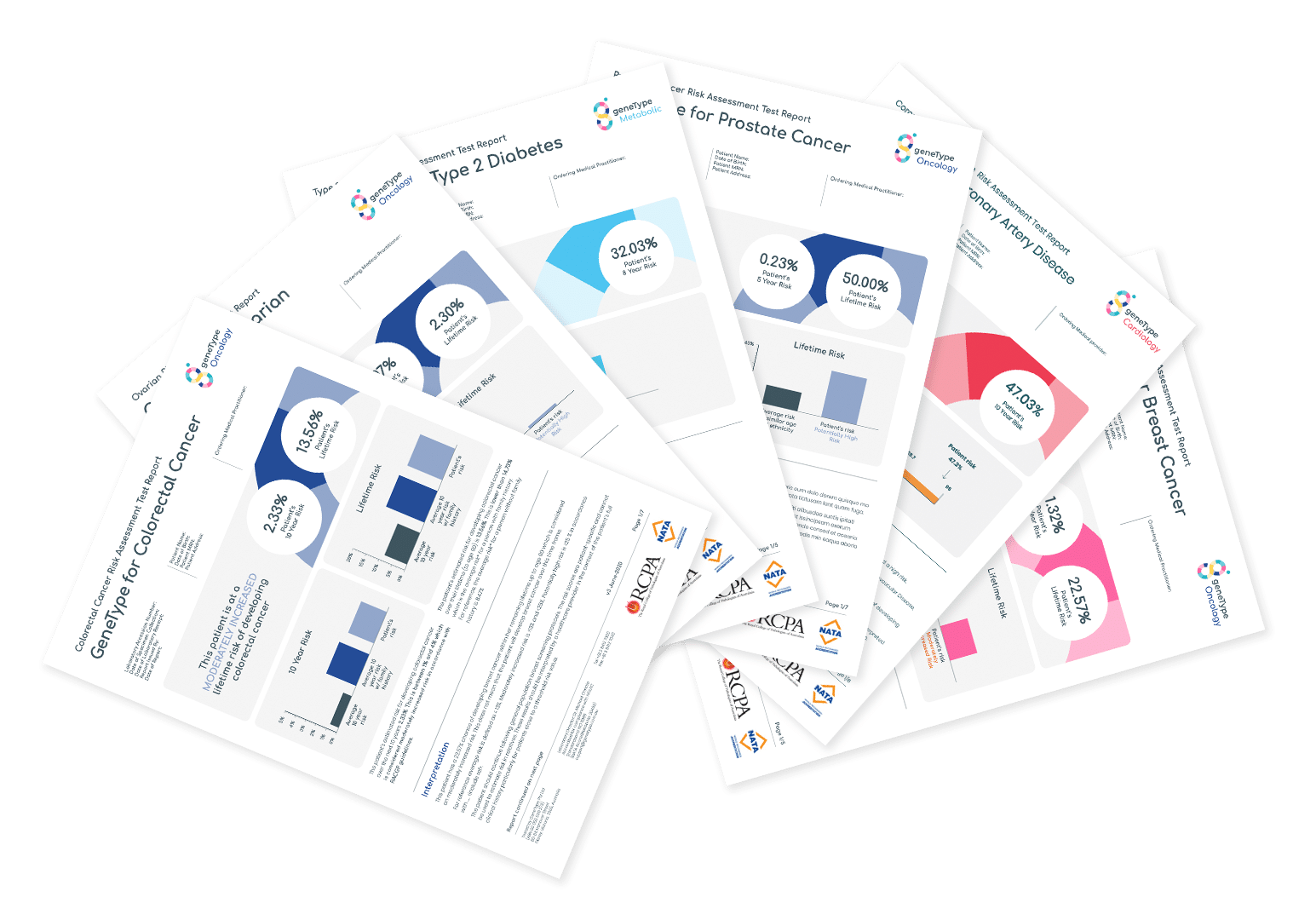 Do your patients have questions?
We have answers.
If we haven't answered your question, contact us directly.
For which ethnicities is geneType for Type 2 diabetes validated?
GeneType for Type 2 Diabetes is currently validated in people of Caucasian descent and relies on the patient correctly reporting their ethnicity. Other ethnicities are under investigation but risk scores are not yet available.
Who is this test not applicable for?
This test is not applicable to people who have fasting glucose levels above 7.0 mmol/L. In this case, the patient already has type 2 diabetes and should be managed appropriately.
Is this test medicare reimbursed?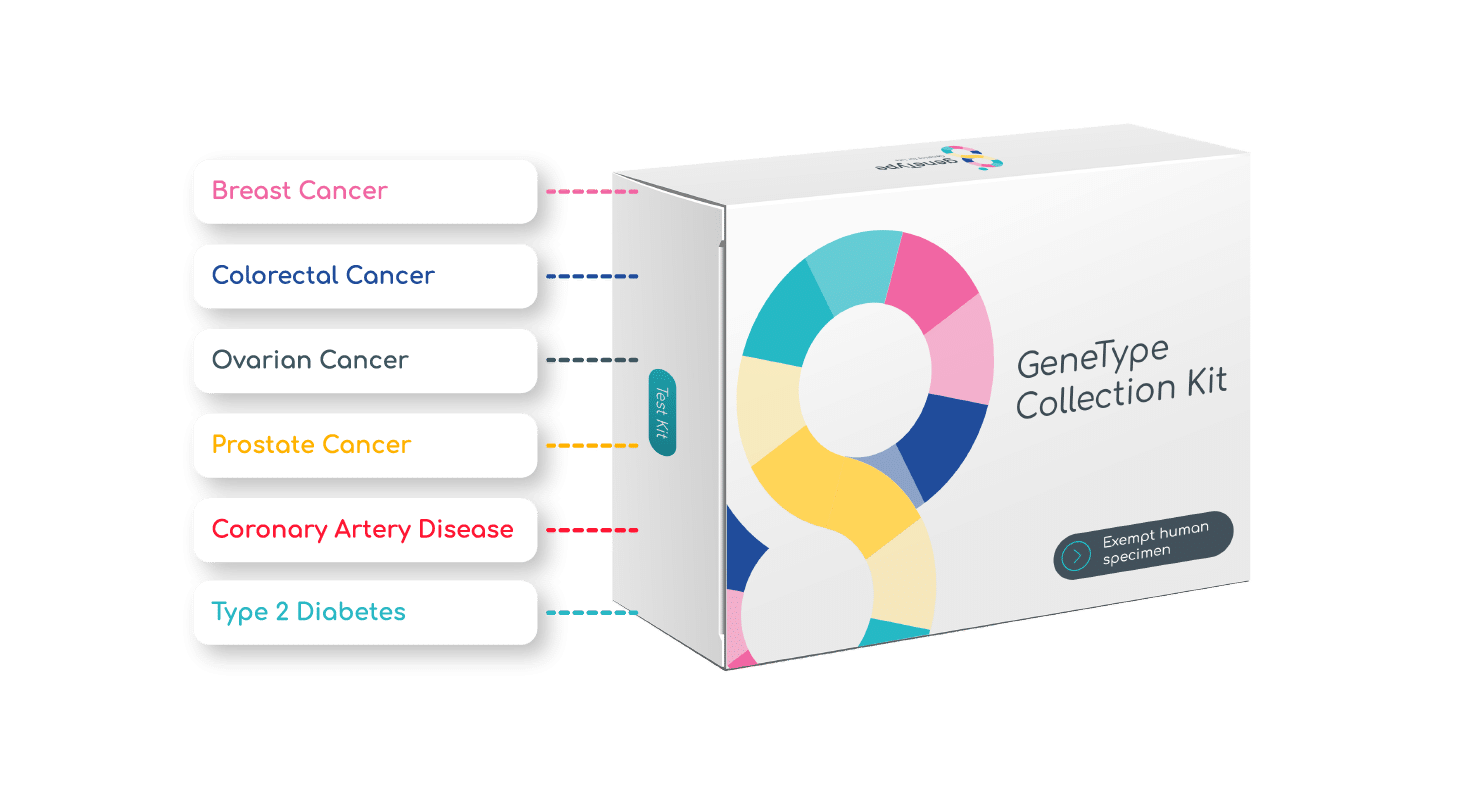 Available to Medical Practitioners
GeneType Multi Test
A combination of geneType tests for breast cancer, colorectal cancer, ovarian cancer, prostate cancer, coronary artery disease and type 2 diabetes in a single test.
Know your risk of a serious disease to tailor a personalised prevention plan with your medical practitioner.
It's not always easy to know what questions to ask your Doctor. Here are some breast cancer risk questions…
read more
References
Diabetes Australia (2021) Pre-Diabetes. Available at: https://www.diabetesaustralia.com.au/about-diabetes/pre-diabetes/. Accessed February 2022.
The Royal Australian College of General Practitioners. Management of type 2 diabetes: A handbook for general practice. East Melbourne, Vic: RACGP, 2020.
The Royal Australian College of General Practitioners. Guidelines for preventive activities in general practice. 9th edn, updated. East Melbourne, Vic: RACGP, 2018.
Keep up-to-date with our latest advances 
Sign up to our newsletter to stay informed about our latest advances and how these could support your practice.